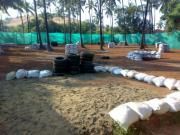 SPLAT
This is a game center very close to the Anjuna Beach in the village of Anjuna in Goa. Here you get to splash others with paintballs and hit them as much as you like. This fun arena is fit for all age groups except for infants. This is because they might get hurt. This experience is nothing short of a party on the beach stands of Goa.
Places to stay near
SPLAT
OYO 10169 Santiago Beach Resort 2
Reviews of
SPLAT
•
1
A day at Splat – Oxford's Paintball Arena is bound to get your adrenaline pumping. Where else can civilians dress for combat in camouflage suits, face masks, gloves and chest guards as pellets slice through the air and the ground explodes (yes, with colourful goo). It's a thrill hard to resist. Splat is a natural open-air arena with tree trunks, wooden stacks, old tyres, sacks and recent wooden and sand bunkers, which create the perfect network to dodge and dart in a chaotic face off. The arena is opened from November to the onset of the monsoons, and includes an age restriction of 16 and above to participate in the game.