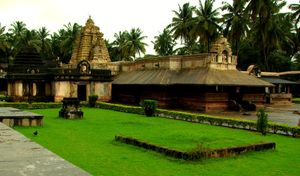 Things to do
tours, photography
Madhukeshwara Temple
Banavasi is a small and peaceful town on the borders of Shimoga and the Uttara Kannada districts. This was the capital of the Kadamba Rulers. The Kadamba Dynasty was the first royal dysnasty of Karnataka and the temple of Madhukeshwara belongs to that era during the 4th century. The name Madhukeshwara is due to the honey coloured lingam inside the temple which was erected and fixed during the rule of the first Kadamba ruler, Mayura Varma. The later kings and dynasties have made enough renovations and additions of this temple which is now a fine example of the blend of a variety of architectural styles. The place around this temple is good for relaxing and lazy walks.
Reviews of
Madhukeshwara Temple
•
2
Life in Banavasi revolves around the Madhukeshwara Temple that houses some exquisite sculptures and carvings namely the Trailokya Mantapa near the Nritya Mantap, an ornamented lithic cot, huge Nandi statue, honey coloured Shiva lingam and statues of the guardians of the eight directions. Banavasi receives heavy rainfall during the monsoons and the polished outer walls of the temple covered in moss and lichen testify to its eroding power. Beyond the temple entrance a flight of steps descends to the River Varada that surrounds the town from three directions and is usually in spate during the rainy season.
In folklore, the site of Vanavasika alluded to in the Mahabharata is believed to be present day Banavasi also called Nandanavana, Kanakavathi and Jaladurga over the course of time. In the 4th century A.D Mayura Sharma, of the Kadamba Dynasty, chose Banavasi as his capital– then called Jayanthipura – and established the first formidable center of power in Karnataka. The symbols of its glorious past have been swallowed by time save for sections of crumbling fort walls criss-crossing the town and occasionally surprising the onlooker. The Madhukeshwara Temple, however, retains its splendor and displays several architectural influences like Chalukyas, Hoysalas, Kadamba and Sonda School of temple building.
Attractions near
Madhukeshwara Temple