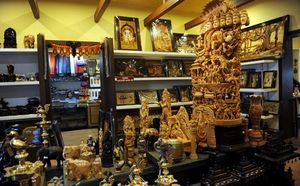 Open hours
All days of the week except Sunday 11:00 AM - 7:00 PM
Things to do
Art Gallery, Dance Performances
Rank
153 out of 155 attractions in Bangalore
Renaissance Gallerie
The Renaissance Gallerie in Bangalore brings the finest art pieces from India to a audience in love with art. This Gallerie was opened in 1993 and is one of the most successful and state of the art galleries is India. It has a very firm identity and has a deep relationship with its clients and art lovers. The principle objective of the museum is to offer best quality art at an affordable price to its clients. The clients of this museum come from a different economical backgrounds starting from Bollywood stars, Businessmen, to normal employed people. The Museum gained huge popularity in the mid-90s, when it started its exhibition with a small music recital & dance performance and guest appearances with the intention of making art shows equally interesting for art enthusiasts and hobbyists alike. The Museum also hosts charity events over the years like Set a Child Free, Rendezvous, Qismat and Art Extravaganza.
Places to stay near
Renaissance Gallerie
Treebo Select Stylotel by Jagadish
Reviews of
Renaissance Gallerie
•
1
Located on the Cunnhingham Road, is a very unique art gallery. The Renaissance gallery gives a great insight into the then art, whats special about this gallery is that most of its art is by budding artists, giving new insights and idea to art.
Attractions near
Renaissance Gallerie