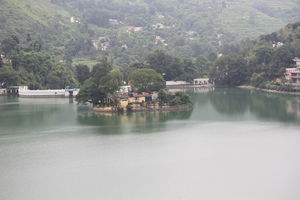 Best time to visit
May to June
Things to do
Sight Seeing, trekking
Rank
1 out of 9 attractions in Bhimtal
Bhimtal Lake
Bhimtal is a city placed within the Indian state of Uttarakhand. It is placed at a degree altitude of around 1200 meters, and is called when an illustrious character in Indian mythology – Bhima. The city of Bhimtal is principally attractive spot among tourists and native travelers alike, chiefly as a result of its proximity to hill station of Nainital. Bhimtal is principally illustrious for the big Bhimtal Lake that's gift within the region. Throughout your trip to the city of Bhimtal, you'll go seafaring within the Bhimtal Lake, as this can be one in all the chief holidaymaker attractions in Bhimtal. A temple is found within the city of Bhimtal, and this attracts pilgrims from in and round the region. Known as Bhimeshwar, the temple was inbuilt the seventeenth century. The exquisite design underneath that temple makes it more attractive for devotion.
Places to stay near
Bhimtal Lake
Himalayan Lakeside Guesthouse
Green Glen - Revive in the Himalyas
Reviews of
Bhimtal Lake
•
1
Next we moved on to my second surprise which was waiting for us at Bhimtal! Bhimtal is like any other small district with a row of shops, dhabas and two famous temples BUT there is something here which you will not find at any of the lakes - Kayaks! Now I know this is still water and kayaking here is the simplest thing ever but it was a start and my excitement knew no bounds.
Attractions near
Bhimtal Lake