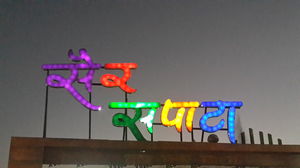 Best time to visit
The place can be visited round the year especially during the evening hours.
Open hours
9:00 am to 7: 00 all through the week and even on Public holidays.
Things to do
There is a lot to enjoy here, but the best part is the relaxing environment.
Budget
Adults need to pay INR 10.00 to enter while children are charged INR 10.00 per head
Rank
1 out of 4 attractions in Bhopal
Sair Sapata
The banks of Upper Lake are home to an entertainment complex called Sair Sapata. This place has a musical fountain, a toy train that one can ride on, a children's play pen area that is huge and a suspension bridge that connects Prempura and Sewania. This suspension bridge is the star attraction here. If you wish to boat, Sair Sapata has this facility on offer as well. You will be happy to have come and spent a day filled with fun activity. There are a number of stalls tat rustle up delicious food here.
Places to stay near
Sair Sapata
Comfort and Care in Lake City
OYO 3774 Hotel Naman Palace
OYO 8650 Hotel Johri Residency
Reviews of
Sair Sapata
•
1
The replica of London Bridge, other than that... there's nothing much for grown ups to do there.
Attractions near
Sair Sapata