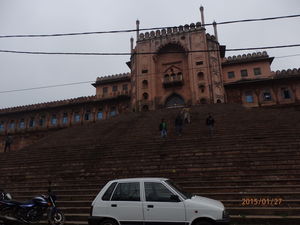 Best time to visit
Time to Visit: There is no hard and fast rule with regard to the time of the year that one can visit the masjid. Just visit the place whenever one feels the need to be connected with the divine and make some offerings and say prayers.
Open hours
The masjid is open all the days of the week from 6 AM to 8 PM
Things to do
The mosque is also used as a Madrasa and thus one can pay the students a visit (with prior permission) during their course of the study of the Holy Quran. Say a prayer at the Quibla Wall if you must.
Budget
Being a place of worship, there is no entry fee charged for those who wish to pay a visit to this masjid.
Taj-ul-Masjid Road
The efforts to build this monumental marvel began during the rule of Sultan Shah Jehan Begam, who reigned over Bhopal from 1868 to 1901. The work was completed by the year 1971 after havng been taken over by Allama Mohammad Imran Khan Nadwi Azhari of Bhopal. The name, when translated goes on to mean, 'The Crown of Mosques' and true to this, it is indeed a spectacle to behold. The place is excessively ornate with its pink façade and a duo of 18 storied minarets that adorn it. Atop these minarets are domes that overlook the main hallway which is filled with pillars and floors made of marble.
Places to stay near
Taj-ul-Masjid Road
Comfort and Care in Lake City
OYO 3774 Hotel Naman Palace
OYO 8650 Hotel Johri Residency
Reviews of
Taj-ul-Masjid Road
•
1
Attractions near
Taj-ul-Masjid Road