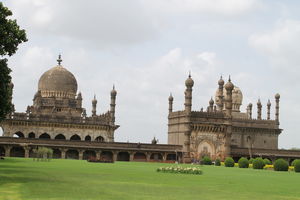 Ibrahim Rouza
It is the tomb of Ibrahim Adil Shah 2, the fith ruler of the dynasty, noted for its striking symmetry, it is said to be the inspiration for the Taj Mahal and is located in Bijapur.
Places to stay near
Ibrahim Rouza
Home Sweet Home in Historical place
Reviews of
Ibrahim Rouza
•
2
Huge structure which is courted with a huge garden, but ironically not many visitors were found during my visit. Walking around on the hot stones bear footed was quite a thing which you wouldn't wish to do during summers. The entry was charged at INR 5/- and i paid extra INR 25 for camera, which i realized later that nobody actually checks whether you have paid for it or not.
Our second stop was the absolutely awe-inspiring and magnificent Ibrahim Rouza... Well, here's a little secret... Apparently, the construction of The Great Taj Mahal- one of the Seven wonders of the World was inspired by Ibrahim Rouza . One of the must see places when you are in Bijapur, Ibrahim Rouza offers you a simply delightful picturesque view. It consists of the tomb of Ibrahim Adil Shah, father of Adil shah II, along with his family. Even though the walls of the monument have been damaged and worn off to some extent, it has been well preserved along with a beautiful garden by the tourism authorities. Only sad part is the names scribbled on the walls by the locals and tourists alike.  The monument requires at least two hours to be explored completely. Don't forget to carry your camera along as it is worth clicking a few snaps. Entry Fee: five rupees
Attractions near
Ibrahim Rouza