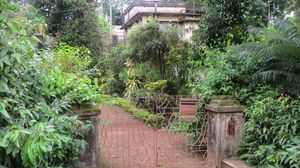 Bolpur Shantiniketan
Earlier known as Bhubandanga after the name of Bhuban Dacoit, this place was named Shantiniketan after the house built here by Maharishi Debendranath Tagore, the father of Rabindranath Tagore. This is from where also started the Brahmo Samaj. This town in the Bolpur District of Birbhum is mainly known for Rabindranath Tagore's visionary Vishwa Bharati University which is over here. The Patha Bhavan school started by Tagore is also an attraction here. Children out here are taught in the open classrooms which are inside the forest of the crimson flowers. This is how children learn to be more friendly with nature. There is also a memorial dedicated to Tagore out here. All these have made Shantiniketan a popular tourist attraction as a neighbour of Kolkata.
Places to stay near
Bolpur Shantiniketan
Reviews of
Bolpur Shantiniketan
•
2
on the first day of arrival we went out immediately for viswa bharati after checking in hotel.we hired toto cars to reach that place but later we understand it is within walking distance and those toto cars were really expensive to hire.so from then we started travelling just by walking.Roads were very clean , charming and beautiful and you will get to see so many very tall trees which were very old and added nice look to road.Inside rabindra bharati there were so many places to explore .we found a map outside of the rabindra bhavan gate and started exploring local places.Avoid weekend trip because this place becomes very crowded on weekend.
This is the place where Rabindranath Tagore set up the college called Shantiniketan for higher studies. It can be reached easily by Train from Kolkata. The two major activities to do here is the visit the University and the museum where one can easily spent half a day just roaming around. The second is to explore the city and visit the local heart to see the village handcrafts. Drive from Kolkata to the place is very scenic and the roads are extremely good. Point to note is that driving in the night might be a bit risky as there are hardly any street lights.
Attractions near
Bolpur Shantiniketan