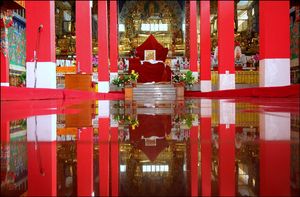 Best time to visit
February-April, May-November
Things to do
Exploring, Strolling
Serpom Monastic University
The Namdroling Nyingmapa Monastery is the biggest showing focus of the Nyingma ancestry of Tibetan Buddhism in the world. The cloister was set up by throne-holder Kyabje Penor Rinpoche in 1963, after his 1959 way out from Tibet as the second seat of the Palyul Monastery, one of the six awesome Nyingmapa Mother religious communities of Tibet preceding addition. Every day Namdroling religious community invites many guests, both from India and abroad to encounter the teachings and make the most of our grounds, sanctuaries and thoughtful environment. For travelers wishing to see their grounds and sanctuaries, it is conceivable to stay in inns in the neighborhood town of Kushalnagar without license and make day excursions to the monastery. Tourists and different guests with non-Indian international IDs for the most part stay in inns in Kushalnagar, a short auto Rickshaw ride from the cloister (10 rupees for every individual, 30 rupees if more individuals). Amid extraordinary occasions, the religious community may book the spaces for uncommon visitors so check close before your entry to protect accessibility.
Places to stay near
Serpom Monastic University
Vista Rooms at Kushalnagar
Reviews of
Serpom Monastic University
•
1
Sitting on the cool steps leading to the entrance of the Serpom Monastery and watching the tired sun set behind the vast plains is therapeutic to say the least. In the evening the monastery is quiet and not many visitors and monks can be seen, ideal for someone who wants to experience the calm that Buddhist monasteries are known for. One can get a beautiful view of the fields stretching to the horizon dotted by golden monasteries bathed in the orange mood of the setting sun.
Attractions near
Serpom Monastic University