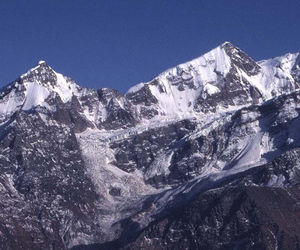 Things to do
trekking, photography
Nanda Devi
The Nanda Devi is the highest mountain in Uttarakhand and the second highest in the country. It is also known as the highest mountain peak which is completely in India as the Mt. Kanchenjunga lies on the borders of India and Nepal. The main attraction here is the Nanda Devi National Park, which, along with the Valley of Flowers National Park makes the Nanda Devi Biodiversity Reserve. The scenic beauty of this place is scintillating and the views of the other sides from here are good too.
Reviews •
2
Semi-nomadic and pastoral, the Bhotias are known to be excellent mountaineers. They come from Kumaon and Garhwal's higher valleys, and also along the Tibetan and Nepal border. They worship Nanda Devi, and other deities who are known to protect livestock, control weather and even help find lost animals. BUXAS
Thristy sheepsDay 1 : Delhi to Kathgodam:Since Roopkund is a difficult trek at this time of the season we decided to trek with TTH ( Trek The Himalayas) Team from 19-May to 26-May. Some of the colleagues had previously trekked with the team with good reviews. My backpack was still unpacked with the stuff from the trek on the previous weekend. So I carelessly filled it with other warm clothes. It was later I realised that I had forgotten may items like a towel, soaps and other basic but important stuff. I reached Kathgodam at around 8.00 pm and met my colleagues. After eating a heavy pizza in the Dinner, slept at KMVN kathgodam.
Attractions near
Nanda Devi