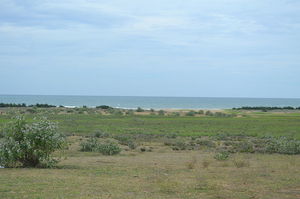 Things to do
road networks
Pondicherry Road
The East Coast Road which joins Pondicherry to Chennai is also known as the Pondicherry road and is one of the majormost parts of the road networks of Chennai. This road is also known as the National Highway or NH- 49. The road is built on the coast of the Bay of Bengal. The network has now been extended upto Thootokudi via the network of Chidambaram. This is not only helpful for everyone but has also decreased the time taken to reach the places it connets with.
Places to stay near
Pondicherry Road
OYO Flagship 486 Nungambakkam-Greams road-Apollo Hospital
SHADE POINT-Single Occupancy.
Ideal location near beach,luxurious
Reviews of
Pondicherry Road
•
2
We started our journey early morning from Chennai to Pondicherry. As per initial plan, we thought first go to Mahabalipuram and then continue our journey to Pondicherry but last minute took decision not go their. Although we covered that place later on. It took ~4 hrs to reach Pondicherry. We first went Auroville center and spent a good time there. After that we went to Pondicherry city where we see Sri Aurobindo Ashram, Ganesh Temple, Beach bay. We spent 4-5 hrs there and continue our journey for Rameshwaram. My recommendation is stay a night in Pondicherry and enjoy the some cafe on beach side. We saw few temples on the way to Rameshwaram and reached there around 10pm in night. There are planty of options are available to stay at low cost. My recommendation is book in advance because some time heavy crowd surprised you. Recommended things to do - Water Activity (we didn't did this), Dhanush Kodi Visit, Early morning sunrise from Rameshwaram temple front, Spent time on Rameshwaram bridge (alleast spend 1hr by walking on bridge), Early morning (~4am) Shivling special darshan, late night sleeping pooja (~8pm).
Chennai to pondicherry via the amazing city of Mahabalipuram, famous for group of Monuments and the Shore Temple. The 158 Km long distance take almost 3 hours along the coast of the Bay of Bengal on the famous East Coast Road. East Coast Road offers scenic views of Bay of Bengal,beach on the coromandel coast and many grand and old Temples.
Attractions near
Pondicherry Road