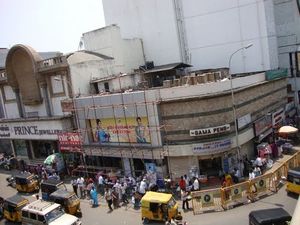 Rank
77 out of 310 attractions in Chennai
Pondy Bazaar
This is a major shopping district in the T. Nagar neighbourhood. The name of this market is mainly Soundarapandian Angadi and this is after the name of the statue of Soundarapandian. You will find a large number of shops her eselling a variety of items. You are almost sure to find everything that you want out here. Lined along this market are restaurants selling very good food. So you can set out for shopping and then start gorging on delicious food after you are tired and hungry.
Places to stay near
Pondy Bazaar
SHADE POINT-Single Occupancy.
Cozy stay near Taj Coromandal Hotel - Room No.2
Centrally Located Family Home
Reviews of
Pondy Bazaar
•
3
3. Holy Pondy – the Mecca of Shopping -This place is considered to be the 'Mecca' of shopping destinations in Chennai. Yes, Pondy Bazar, apart from being an important commercial hub, is one of the busiest markets down south. No matter how long your shopping list is, you are sure to get every single item. Toys, clothes and shoes for all age groups, fragrances, jewelry items, household items and appliances, electronics, music and movie CD's and DVD's…there is no end to the list. Brands like Raymond, Nike, Fastrack, Woodland and LEE have their retail showrooms at this market. There are many more such brands that have established stores in Pondy Bazar. Undoubtedly, this is the craziest and liveliest place in all of Chennai. Guess what, international lingerie brands can also be sourced from this market. What more can one want? Make your list and set out to conquer Pondy Bazar.
This place gets crazy! But has some of the best bargains in all of Chennai. Pushing through the massive crowds, shopping can get a bit exhausting. Make sure you bring along a local to help with the communication.
Attractions near
Pondy Bazaar