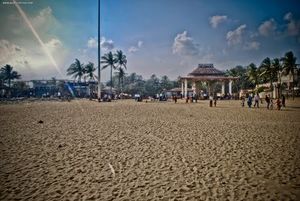 Best Months
June - February
Rank
65 out of 310 attractions in Chennai
VGP Golden Beach
This is a beach off the East Coast Road of Chennai which is known as the Injambakkum Region. The place ios popular for film shootings and the name is derived after the colour of the sands here. It is always crowded and you will not find it less throughout the year. This is like a contradiction from those peaceful beaches but people- watching at times can be a happy thing to do as well. People do swim here but watching and enjoying the sceneries is a better thing to do here.
Places to stay near
VGP Golden Beach
Venture Park, OMR, Thoraipakkam, Chennai
Solitaire Service Apartments
Reviews of
VGP Golden Beach
•
1
This is the second longest beach in the world. There are resorts and hotels with lip-smacking food. Moreover, there are many other attractions including children's rides in the place. With peppy music, yellow sand, the sun rays on your back and foaming waves, the place is just right for a holiday.
Attractions near
VGP Golden Beach