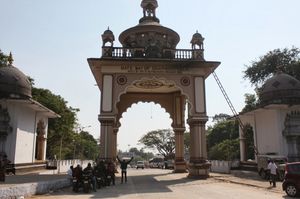 Sri Sharadamba Temple
A famous temple dedicated to goddess Saraswati located in the holy town of Sringeri, it was built in the 8th century and was founded by Sri Adi Shankaracharya.
Places to stay near
Sri Sharadamba Temple
Sharada Vilas Serviced Apartments
Reviews of
Sri Sharadamba Temple
•
1
Next day bikers were in spiritual mood the plan was to visit sringeri temple and Dharmasthala temple, we did visit these two temples and again took the curvy roads on charmadi ghats, again needless to say the roads offered awesome curves with forest surrounding. took break at Kottigehara for the famous neer dosa's, we bikers are also foodies would not like to miss any special foods.
Attractions near
Sri Sharadamba Temple