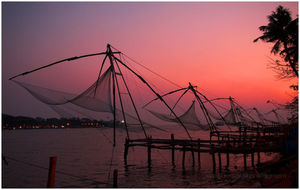 Best time to visit
One can pay a visit to this place round the year
Things to do
Pose with these nets in the backdrop.
Best Months
September - May
Traveller Types
Couples, Families
Rank
12 out of 159 attractions in Cochin
Chinese Fishing Nets
This is a very strange yet efficient method to catch fish and is used widely in Kerala. The place is also called Cheenavala and was brought along by the Chinese explorer Zheng when he paid the country a visit. Right from Fort Kochi to Vypee, one will be able to sight these Chinese fishing nets. They make for a great click and this is the best place for one to buy some fresh seafood. The coastline is dotted with shacks that sell fish and other seafood caught earlier in the day. One can have the local eateries prepare a tasty seafood dish as well. The sun can be brutal and so one is advised on carrying shades, an umbrella and do use lots of sunscreens.
Places to stay near
Chinese Fishing Nets
Reviews of
Chinese Fishing Nets
•
2
1) Chinese Fishing Net Think Fort Kochi and the first image that comes to mind is Chinese fishing net. Not because its just fishing net but the way its used is worth a watch. Fish catching technique using these nets are fading away, the cost of having these nets, maintaining it and number of persons (6-7) required to operate is the reason. In India you can see these in operations only at Fort Kochi and Kollam. The nets are mounted on huge wooden beams and fishing is done by lowering the nets into the water and then gently pulling them up.
Chinese fishing net is the place where you get to encounter various fishermen along with their nets. They have a unique style of catching fishes and they say that it's the chinese style if catching fishes, hence the name. They explain you how it is operated by charging few penny. During afternoon, one can head to the waterfront where the nets are lined in the shore and enjoy the seafood. Various stalls for food, toys, balloons, events happening are found there.
Attractions near
Chinese Fishing Nets