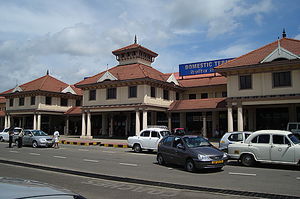 Best time to visit
One can use the airport to come to Kochi for a vacation.
Open hours
Round the clock, all through the year
Budget
Entry is restricted, but one can get to the gallery for INR 60.00
Cochin International Airport
This is an international airport in the city of Kochi that located around 30 kilometres to the northeastern side of the city. This is the largest and busiest airport in Kerala with a number of carriers like Jet Airways, Indigo, Air Asia and Air India flying flights from here to cities like Mumbai, Delhi and other states in India. The place was inaugurated in the year 1999 on the 25th day of the month of May by the then President Shri K.R Narayanan. The place was declared as the world's first fully solar powered airport on August 18, 2015. With a number of domestic and international terminals, this place sees a number of flights take off and land daily.
Reviews of
Cochin International Airport
•
5
Attractions near
Cochin International Airport