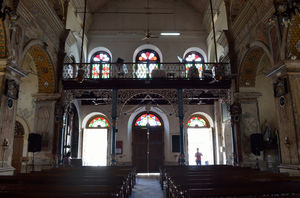 Best time to visit
Round the year
Open hours
All through the week except on Sundays as the mass in held here. . The timings are from 7:00 am to 6:30 pm.
Things to do
Please attend mass here when one is visiting Kochi.
Best Months
September - May
Traveller Types
Couples, Families, Friends
Rank
7 out of 159 attractions in Cochin
Santa Cruz Basilica
Built in 1505 by the Portuguese, this place happens to be the oldest church in India and a heritage site in all of Kerala. The interiors are done in an Indi-Gothic style and the main altar was painted by a famous Italian painter called Antonio Moscheni. The place was given the status of a cathedral by Pope John Paul IV in the year 1558. This church was the brainchild of Dom Francisco De Almeida in 1505 who was the first Portuguese Viceroy. He sought permission from the King of Kochi and thus the church was built. It gets its name from the date 3rd May 1505 when the foundation stone was laid and that this day happened to be celebrated as 'the invention of the cross.'
Places to stay near
Santa Cruz Basilica
Home in village- Ypin Island
Reviews of
Santa Cruz Basilica
•
3
The original church, situated in Fort Kochi, was built by the Portuguese in 1505 and named as a cathedral in 1558. The British colonists destroyed the cathedral in 1795. The current structure was built in 1905 and raised to the status of a basilica by Pope John Paul II in 1984.
Considered to be one of the heritage buildings in India, this church is impressive not only for its size but also for its varied history. Its gothic architecture is fascinating.
Attractions near
Santa Cruz Basilica