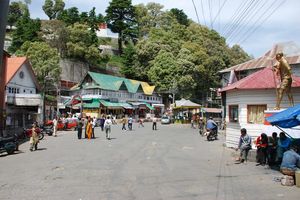 Open hours
This varies according to the different hotels and restaurants.
Things to do
Take your time and explore the place well.
Budget
Though this varies, the average room rate would be about INR 2500.00 while to eat out, a meal for two will cost about INR 1000.00.
Traveller Types
Families, Couples
Rank
3 out of 16 attractions in Dalhousie
Gandhi Chowk Shopping Plaza
A very famous place that houses some very good hotels and restaurants is what defines Gandhi Chowk. A renowned place here is the Hotel Ark that opened its doors in 1941. This hotel has been serving the public and has won the favour of many with its modern amenities coupled with an old world charm and ambience. Tall pine and oaks surround the place. Try the fare at Café Dalhousie and be blown away by its array of Chinese, Indian and South Indian delicacies. Other famous hotels here Hotel Megha View and Hotel Meghars Pungi that offers one quality standards at economical rates. Gandhi Chowk is a place that is well known among the tourist circles as well.
Places to stay near
Gandhi Chowk Shopping Plaza
goStops Dalhousie (Stops Hostel Dalhousie)
Reviews of
Gandhi Chowk Shopping Plaza
•
2
Gandhi chowk (GPO) is the center of activities, shopping and restaurants, this is also the starting point of most treks. If you love to do shopping or trekking this is your area so don't wait just get set and go.
Away from the area where hotels are built, one has to walk for 15-20 minutes to reach the place. One can sit on the benches and enjoy the calm weather of the place. The place has a library for bibliophiles where one can relax and read about Dalhousie and a Tibetan market for shopping.
Attractions near
Gandhi Chowk Shopping Plaza