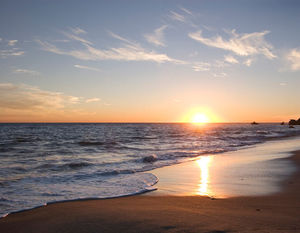 Ghoghla Beach
The Ghoghla Beach is a sandy shoreline. A vacationer complex (Sugati Beach Resort) adjacent to it gives every fundamental amenitie to voyagers. It is the biggest and gentlest shoreline of Diu. A Sugati's own one of a kind shoreline is, Ghoghla beach. The Golden sand shoreline undulates into the skyline while the Arabian Sea laps away at the edge as if beseeching the sands to give it a chance to locate its own particular peach. You can do swimming, parasailing, sunbathing, surfing etc. The virginity of the shoreline and quietness of the environment give the guest peace and delight past expression. The waves here are more grounded than Nagoa shoreline. Individuals are less when contrasted with Nagoa shoreline. Picturesque perspective is accessible here. Ghogla shoreline is extremely excellent. You may stay and appreciate here for long time. It is quiet and water games are accessible. It is situated on the passage to Diu.
Places to stay near
Ghoghla Beach
Reviews of
Ghoghla Beach
•
3
After that we decided to visit the Ghoghla beach, it was the least crowded beach yet because it is quite far from the main city, we just sat there and waves were washing our feet, quite mesmerizing feeling. Now time was around 6 PM and headed back to Diu city. We visited the St Thomas's Church while returning to vehicle shop and offered our prayers. As Guesthouse was quite near to vehicle shop so walked to Guesthouse and had some rest. In the night we headed out to have dinner after doing some inquiry we found an amazing food-court styled place (location-on the fort road) and reached there and did some dinner and we came back to Guest house.2nd day of trip
From Diu, we planned to do Somnath, Porbandar and Dwarka. However, we fell in love with Diu and decided to stay there instead of doing the extended road trip in a jiffy.
As compared to Nagoa beach, this one is quite inactive when it comes to adventure sports as it is more of a fishing spot. But if you wish for a silent place at night along the sea, watch the moonlight glisten on the water, this is the place to be!
Attractions near
Ghoghla Beach