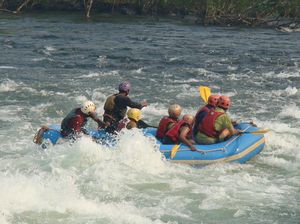 Things to do
adventure sports, photography
Rank
4 out of 7 attractions in Dandeli
Kali River
Also known as the kalinadi, this river flows through the Karwar region of the district of uttara Kannada in Karnataka. This is a very important river as it is the main source of water supply for almost 4 lakh people and also the main source of livelihood for the fishermen around this place. There are a number of dams built here for the purpose of generating hydroelectricty which will in turn provide electricity to the families around this river. The Kali Bridge is built over the river and is a part of the National Highway or the NH 17 which is an important road network too. Adventure sports such as river rafting is very popular over here and the scenic beauty is a delight for photographers and well as nature lovers.
Places to stay near
Kali River
Fully furnished 1 bedroom apartment
Reviews of
Kali River
•
2
The Kali river behind the resort was FULL and the resort people informed us that if we would like to go for rafting it's better we go immediately as water level might fall the next day. So after a quick and tasty breakfast we headed to the rafting site where we got ready with the gears and instructions. The entire stretch was 9 kms long with 8 rapids some of them 3rd degree and it took us about 3 hrs to finish. This is my third rafting experience and each of them were totally unique. Once we reached back, freshened up and finished our lunch it was already evening and we were lazying around near the river side.
Attractions near
Kali River