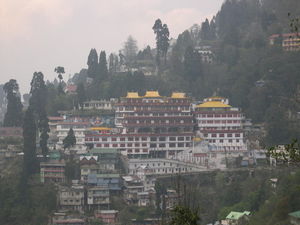 Things to do
meditation, worship
Traveller Types
Friends, Solo, Couples
Rank
43 out of 94 attractions in Darjeeling
Dali Monastery
Also known as the Druk Sangag Choli Monastery, this is another beautiful place where you can rejuvenate yourself amidst divine settings in Darjeeling. The monastery was built in the year 1971. This is basically a Tibetian Monastery and thus follows the styles of Buddhism meditation. The peacefulness and tranquility of this place serves as a therapy to the mind and soul and you feel more at peace when you leave this place.
Places to stay near
Dali Monastery
Reviews of
Dali Monastery
•
3
Dali MonasteryDruk Sangag Choling Monastery, more commonly known as Dali Monastery is one of the largest Buddhist monastery in Darjeeling. It's located on a hill top and the view from here is quite mesmerizing.
2. Dali MonasteryOne of the largest monasteries built in pure Tibetan style, Dali Monastery, is exquisite. Perched on a steep hill, the actual name of this monastery is Druk Sangag Choling Monastery. As you make your way through the arch gate, a series of waving flags greets you. A few steps lead you to a major prayer room that houses large prayer wheels. A little further is a huge prayer room with Buddha statues and superfluous wall art. The majestic grandeur and simplicity of the architecture is praiseworthy. The entry is free.
The biggest monastery, attend the morning prayers, interact with monks
Attractions near
Dali Monastery