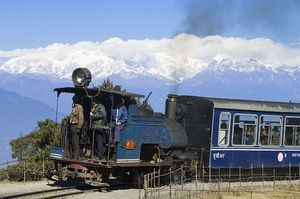 Best time to visit
Try avoiding the winter months from December to February, as the weather may not be conducive.
Open hours
The toy train functions all through the week from 8:00 am to 9:30 pm. However, do check with one of the tree agencies that sell tickets.
Things to do
The Batasia Loop makes for a great view of Everest and Kanchenjunga. Carry your camera to capture some great pictures.
Budget
The base or starting fare for a seat on the toy train is around INR 360.00 and the amount goes up.
Traveller Types
Families, Couples, Friends
Rank
9 out of 94 attractions in Darjeeling
Darjeeling Himalayan Railway
Declared as a UNESCO World Heritage Site in 1999, the Darjeeling Himalayan Railway or more dearly known as the 'Toy Train.' With its narrow gauge trains of two feet, things do not get more exciting than when one is on a ride on the toy train. The length that the train covers is about 80 kilometers. The starting point is New Jalpaiguri in the district of West Bengal and the train goes past Siliguri, then Kurseong and Ghum while chugging along many loops and reverses. After having been out of service for quite some time, the toy train is now back in action and promises one a ride of a lifetime.
Places to stay near
Darjeeling Himalayan Railway
Reviews of
Darjeeling Himalayan Railway
•
4
Attractions near
Darjeeling Himalayan Railway