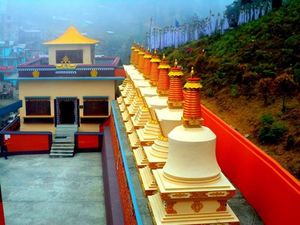 Best time to visit
2:00 AM - 8:00 PM
Open hours
12:00 AM - 12:00 PM
Things to do
meditation, worship
Traveller Types
Families, Couples
Rank
13 out of 94 attractions in Darjeeling
Ghoom Monastery
Built in 1875 by Lama Sherab Gyatso, this monastery in Darjeeling is mainly known for the beautiful statue of the Maitreye Buddha or the 'Future Coming Buddha'. This place is also blessed by the very famous Tomo Geshe Rimpoche of Tibet. The Monastery has conserved some very rare Buddhist Writeen Manuscripts. The monastery will fall on your way back from the famous Tiger Hill.
Places to stay near
Ghoom Monastery
Reviews of
Ghoom Monastery
•
2
Not that this was the first monastery we went to (or the last), but I somehow loved it more. Extremely simple looking in appearance from the outside, its kind of amplifies as you step inside. A large, golden Buddha statue shadows over you, and soothing chants are playing in the background. There is not much space for people to stand inside, but the atmosphere it creates ends up having an impact, whether you are a believer or not.
The largest monastery in the region. Ghoom Monastery is also known as Yogachoeling Gompa. It is located in a place called Ghoom in Darjeeling, hence the name Ghoom Gompa. It was in the year 1875 that a Mongolian astrologer cum monk established the Ghoom Gompa. At the entry of the monastery, there is a huge giant size image of seated 'Maitreya Buddha' (prospective Buddha) inside. There are bells, ornate thanka scrolls and drums inside the monastery. Like many other monasteries in and around Darjeeling, this gompa is also a storehouse of some rare Buddhist manuscripts. Located at a distance of about 8 km south from the main town of Darjeeling, this gompa has become a destination for people seeking peace and serenity. The gompa is located nearby Ghoom station. One can also reach the gompa from Hill Cart Road as it is situated just below the road.
Attractions near
Ghoom Monastery