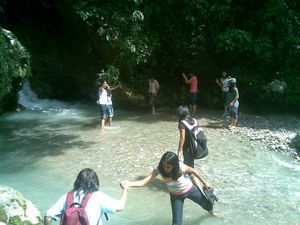 Rank
9 out of 55 attractions in Dehradun
Bhatta Falls
Bhatta Falls is in Mussoorie, Uttarakhand. The Bhatta falls has been one of significant attractions of Mussoorie. Situated at a separation of 7 kms from the township of Mussoorie this spot has been produced as a noteworthy visitor spot. Bhatta falls shares the absolute most beautiful destinations with a little stream coursing through the site. The stream is loaded with green growth which makes it unfit for swimming. A little lake with crisp that is found close-by that is produced to stimulate the guests. This little lake gives some chance to the voyagers who consider having a plunge in the water. Alongside swimming offices the lake likewise give some chance to sculling too. Encompassed with some most appealing kids' park and outlandish picturesque excellence this spot is effectively congenial through nearby transport administrations and auto rickshaws. The voyagers can likewise convey their private autos to near to puts which are very much joined with streets. The most alluring sight of Bhatta falls is the area with the extended piles of Mussoorie which add to the grand magnificence of the fall.
Places to stay near
Bhatta Falls
FabHotel Central Park Inn Dehradun
Reviews of
Bhatta Falls
•
3
The last stop of our trip were the Bhatta Falls. Unlike Kempty Falls, this place was not flooded with tourists and is totally worth a visit. We could hear the sound of gushing water from quite a distance. Preparing ourselves to face the Delhi traffic and pollution again, we left the place. The view of that crystal clear water fall is still crystal clear in my mind.
This secluded and serene waterfall is about 10 km before Mussoorie on the Dehradun-Mussoorie road. The first time I went here was in August 2006 with my mum, my best friend and her mum. We took a taxi to reach the bottom of the falls. There were very few people there and we had Maggi and tea at the small shop there. The next time was with my hostel mates. We walked downhill from the main road to reach the bottom and had a wonderful time there. We were 11 girls and went crazy clicking pics and having some water fun. On the way back we got a bit adventurous and decided to take the dirt track going vertically up instead of the standard route. The outcome was a few scratches here n there and a lot of leeches in our feet. Overall we had loads of fun on this adventurous trek. Apart from these visits I went there thrice again and each time was a unique experience on its own. I fell in love with the place because there was no commercialization and I could thoroughly enjoy nature in peace.
Attractions near
Bhatta Falls