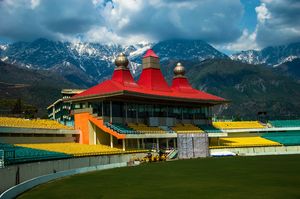 Best time to visit
March to December
Things to do
Partake in the Drupka Teshi monsoon festival held in August and September.
Dharmshala (Dharamshala)
Nestled atop the Dhauladhar Range is the hill town of Dharamashala that happens o be yet another one of the constructions of the British. The place is famous as it happens to be the temporary residence of the leader of Buddhism, the Dalai Lama himself. Dharamshala is resplendent with tall oak trees reminds one of the colonoial era. The town has made it to the top with its local handicraft items and garments that are a winner with tourists. The most famous festival celebrated here is Buddha Purnima which is held either in March or April. So if you are planning a vacation, either make it for the festival and be a part of the crowds or skip it and come when the place is less crowded.
Places to stay near
Dharmshala (Dharamshala)
Attractions near
Dharmshala (Dharamshala)