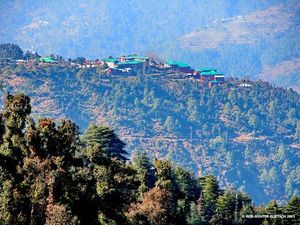 Things to do
Trekking, Nature View, Photography
Gallu Devi To Baal
Gallu Devi Temple is starting point of trekking to Triund.
Places to stay near
Gallu Devi To Baal
OYO 6962 Hotel Wood Castle
Reviews of
Gallu Devi To Baal
•
3
Would you tell me, please, which way I ought to go from here?''That depends a good deal on where you want to get to,' said the Cat.'I don't much care where -' said Alice.'Then it doesn't matter which way you go,' said the Cat.'- so long as I get SOMEWHERE,' Alice added as an explanation.'Oh, you're sure to do that,' said the Cat, 'if you only walk long enough.And that pretty much sums it up for masses who flee from their city cells into the vastness nature bewilders us with.I'm sure you've been around a lot but what I bring to your bucket list is not just another waterfall! I name it, the paradise falls **drum rolls**!Confused at the crossroads near Gallu Devi Temple, one leading to the crowded trail to Triund and the other to a nameless waterfall, I convince my gang to hit the road less taken. Why? Because I've been on both before but believe me when I say so, I'm a huge waterfall fanatic myself but this one here is deeply embedded in my heart.Some years ago when I found myself hiking all the way from our lodge in Dharamkot through a pine forest onto a motorable road connecting this narrow path, I was both spellbound and breathless, back when there weren't any cafes or hotels to snack or rest in but now there are.As you walk past these establishments, you'll find a gem neatly tucked away from civilization and accessible through a green trail of an hour or more (depending on your pace). There's a tiny cafe on left within the initial walk after which there are only layers and layers of trees and rocks to hike up and down following the pipeline to your "destination", coming closer to which will undoubtedly lure your ears with the sweetest sound of gushing water (a lot of it).
The Gallu Devi Temple area has a few guesthouses if you want to set up camp for a day before starting the trek. If you don't want to camp, there is a guest house available ar Triund, run by the Forest Department, which can be booked there directly, or at Dharamshala.
Attractions near
Gallu Devi To Baal