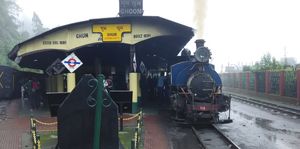 Best time to visit
June to October is the best time to travel to Ghum.
Things to do
Visit the Ghum Museum when you get here.
Budget
No entry fees as such but one will need close to around INR 8000.00 for a week's stay here, inclusive of food, lodging, transportation, etc.
GHUM
Known by most as Ghum, this place stand 7407 feet above sea level and at a distance of 6 kilometres away from the town of Darjeeling. This place happens to be the highest point where the toy train can reach. When here, the Batasia Loop should be the place to visit with its landscaped gardens and awesome views of the snow-capped Everest and the Kanchenjunga. From Ghoom, one can reach many other locations including Siliguri. The place is a quaint little town that offers one a peaceful and healthy stay. Around three kilometers away is the Senchal Lake that should be a priority to visit when one is in Ghum.
Places to stay near
GHUM
OYO 3330 Home Stay Tibet Home