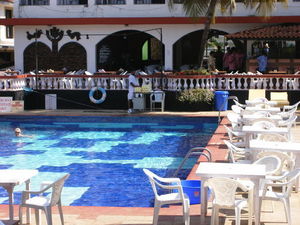 Things to do
holiday resorts
Alidia(Alirio & Lidia)
This is probably the best place around the Baga Beach and is better known as the Alidia Beach cottages. Everything about this property is just superb. The owners are wery cooperative and try to accommodate guests even on the busiest days. The rooms are very good and clean and have awesome views from the window. The swimming pool is just in front of the cottages and the food served is awesome too. The breakfast bucket is especially a must try here. You come here once and you are sure to come here again and again.
Places to stay near
Alidia(Alirio & Lidia)
Luxurious Studio Calangute with Pool
OYO 10169 Santiago Beach Resort 2
Cozy Trendy 3BHK Holiday Villa
Cozy 1BHK near Baga Beach
Reviews of
Alidia(Alirio & Lidia)
•
1
Unlike my other times in Goa when we have largely been busy driving corner to corner to cover as much as we could during our vacations, this time it was different. We chose to be laid back and just explore the north side where we were staying, and leave South Goa for another dedicated trip. In fact, given that rains are unpredictable in Goa, there is little choice one has but to improvise and make the most of what life gives. Which is why moments after we landed on the beach on our first day, we spotted dark mysterious clouds looming over the horizon, in a way we had never seen them before. We decided it was time to head back to one of the shacks to take refuge from the deluge that poured moments later; spending the next couple of hours watching people merrily dancing away in the rain, getting drenched, running for shelter, all over puffs of hookah.
Attractions near
Alidia(Alirio & Lidia)