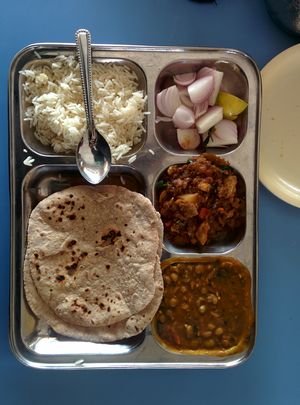 Shavshanti Club Resort
Located close to the "Milk City", Anand, this 3 star resort is spread over 3 acres in area and is away from the commotion of the city.
Places to stay near
Shavshanti Club Resort
OYO 14589 Hotel Royal Inn
Reviews of
Shavshanti Club Resort
•
1
We were searching for a budget hotel for some time now. There are very few hotels on the old road since most of the car traffic is deviated to new road. Only truckers use this road, hotels located are meant for truckers. We would have managed in a hotel with a decent bed and washroom but even that seems to be a lot for most of the hotels. Fortunately we found this resort on Gmap and decide to gave it a try. It was not exactly on the highway but some 100 meters left of the main road. The first look at the hotel and I made up my mind this is where I will end my day. We still park the bikes outside and went in to confirm on the rates. Slightly expensive but the lust of big, comfy and air conditioned rooms made us to check in. Delicious dinner and breakfast and the morning walk in the outside lawn of the resort just another highlights of the resort.
Attractions near
Shavshanti Club Resort