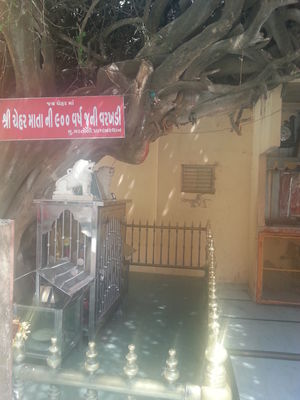 Shree Chehar Mataji Temple
It is said to be one of the most divine places and is located on the bank of the river Mahisagar.
Reviews of
Shree Chehar Mataji Temple
•
1
Next we went to the Shree Chehar Mataji Temple in Martoli. This temple is built of gold from inside. It is 900 years old and I was told that I am very lucky to come here as many people do not get a chance to visit all these places even if they want to. There is a tree inside the temple where it is believed that goddess appeared and a small temple was built at this place. It is said that once there was a "bhandara" (feast) in the temple in which people were fed with 'laddus' (a round Indian sweet). However, the laddus prepared on that day were not enough for the very large crowd that had showed up. The priest instructed to cover all the laddus with a piece of cloth of the goddess, and take out laddus from below it and distribute it to people. Even after everyone was well fed, there were laddus left. Five of those laddus were wrapped up and hung above the sculpture of the goddess. This temple also gives food to whoever walks in, three times a day and seven days a week.
Attractions near
Shree Chehar Mataji Temple