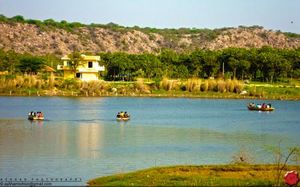 Best time to visit
October- March
Things to do
Holiday resorts, picnics, photography, bird watching, adventure sports
Traveller Types
Families, Friends
Rank
31 out of 52 attractions in Gurgaon
Damdama Lake
This is one of the largest lakes in Haryana and is in the Sohna Region of the Gurgaon District. The lake was first formed with the erection of the stone- earthen reservoir by the British with an aim of rainwater harvesting. The lake is on a hilly terrain and is like an amoeba talking about the shape and also has a number of granches. The dream Island is situated right in the middle of the lake and the Dream Island adventure Resort is a prime attraction as well as a holiday resort here. The Dream Island is a picnic spot and a bird- watcher's destination too. Many migratory birds flock here during the spring and wnters especially and early in the morning, the bird- filled sky is a visual treat. The nearby attractions are the hot springs and the ancient Shiva Temple. The stretches of the Aravalli Range are good places to enjoy a number of adventure sports.
Reviews of
Damdama Lake
•
2
3. Damdama Lake, located around 20 km south from Gurgdaon, is a popular picnic spot and this lake is one of the biggest natural lakes in Haryana. Tourists visiting this place can indulge in boating, hot air ballooning, parasailing, kayaking and fishing, camel riding. Adventure sports like rock climbing, trekking and camping are also possible in the destination. The lake is home to around 190 species of birds, including water fowl, terns, egrets and kingfisher. Best time to visit the lake is from October through March.
Adventures, boating, games and camping....This place has it all.
Attractions near
Damdama Lake