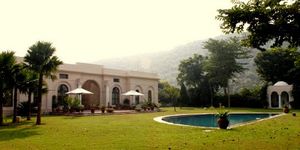 Things to do
Holiday resorts
Contact
(00 91 124) 2766556
Traveller Types
Friends, Families, Couples
Rank
13 out of 52 attractions in Gurgaon
Tikli Bottom
This is an extremely beautiful watchpoint and a holiday resort out here. The charming ambience cannot be well- explained in mere words. The spectacular vies, the awesome weather and the fun you have here will make you come back again and again. The resort is awesome too and the best part is the pool inside. The rooms are all very good and the staff are well behaved and available always when you need them. The outdoor dining arrangement is just superb and you will feel like you are on an exotoc vacation in this resort all the time. Cleanliness is perfectly maintained here and the owner is extremely friendly.
Reviews of
Tikli Bottom
•
2
An ideal option to experience surreal beauty and a plush lifestyle.
About 40-50kms from the Delhi, this place is surrounded by the Aravali hills and has an uncanny gumption of a hill station. Eat and drink to your heart's content with Swimming pool, spacious rooms, great gardens, and indulge in happy conversations during community dinning. Another great thing, you'll never be crowded here because there are only four large bedrooms with plenty of privacy. Word of advice: Make reservations before hand!
Attractions near
Tikli Bottom