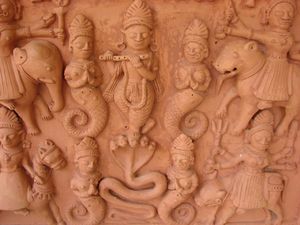 Best time to visit
Most events here happen around of the month of November through till the month of June.
Open hours
One has to contact the helpdesk or drop an email to get this enquiry answered.
Things to do
Have your children participate in the adventure camps that are held on a monthly basis while one can also enjoy the cultural fest, dramas and dances as well. For a detailed list of the events held here, do visit their website www.urusvati.com.
Budget
One need to contact the authorities at urusvatiart@gmail.com or call up their Point of Contact (POC's) at +91-9810605910 or +91-9999700440.
Uruswati Museum Of folkare
Set by the Uruswati Centre for Contemporary Art (New Delhi) in the year of 1999, this museum stands to educate one about the cultural diversity of the country with notable attention paid to the states of Himachal Pradesh, Jammu and Kashmir, Northern and Central Punjab, Madhya Pradesh, Haryana, Bihar and Rajasthan. Much of the research is based on the life on the people in these states, their cultural norms and motifs, art and craft products from these places, mythological stories and events related to these states and much more. The museum conducts various programs that include performing arts and dances that are native to the various states in India. For those who are looking forward for an overnight stay, the Urusvati Art & Habitat offers one a number of rooms replete with all modern amenities and even a swimming pool.
Places to stay near
Uruswati Museum Of folkare
Airport Motel / Aapno Ghar Resort
Aapno Ghar Stay with Free Breakfast
Anand House Homestay Manesar
Urusvati Residency Sec 78 Gurgaon
Reviews of
Uruswati Museum Of folkare
•
1
Attractions near
Uruswati Museum Of folkare