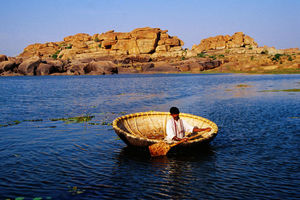 Things to do
Sight- seeing, photography
Best Months
December - February
Traveller Types
Friends, Families, Couples, Solo
Rank
11 out of 54 attractions in Hampi
Tungabhadra River
The River Tungabhadra is made with a mixture of two rivers namely the Tunga and Bhadra. Both of these rivers rise in the Western Ghats and then flow South Eastwards and at the end joins the Krishna River in the place known as Sangamaleshwaram in Andhra Pradesh. This is a perennial river and is full especially during the monsoon. The Tungabhadra Dam on this river is a major project and has proved to be very helpful in the development of infrastructure in this area.
Reviews of
Tungabhadra River
•
2
The ancient name of the river was Pampa. The river divides Hampi into two parts, one is known for its architectural ruins and the other side for its small cafes.The coracle ride should not be missed.
The Tungabhadra River I am talking about is the one that you can walk to behind the Virupaksha temple. It is refreshing after your long exploration inside the temple. This is a perfect place where you can watch life unfolding on the banks of a river - just as a civilization is meant to be - while sipping away on the cooling tender coconuts.
Attractions near
Tungabhadra River