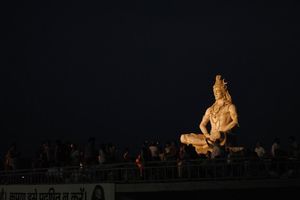 Rank
1 out of 45 attractions in Haridwar
Ganga Aarti at Haridwar
Jai Ganga Maa Har Ki Pauri is a well known ghat on the banks of the Ganges in Haridwar in Uttarakhand state in India. This worshipped spot is the real historic point of the sacred city of Haridwar. Truly, "Har" signifies Ruler Shiva who is said to be a god according to the school named Shaivite Rishav School of Hindu religious philosophy. The Ruler Shiva and Lord Vishnu are said to have gone to the Brahmakund in Har Ki Pauri in the Vedic times. There is an expansive foot shaped impression said to have a place with Lord Vishnu on a stone wall. It is believed that it is the exact spot where the Ganges leaves the mountains and enters the fields. The ghat is on the west bank of Ganges channel through which the Ganges is redirected just toward the north. Har Ki Pauri is likewise the range where a huge number of travelers unite and the celebrations begin amid the Kumbha Mela, which happens at regular intervals.
Places to stay near
Ganga Aarti at Haridwar
Palacial room at the heart of City.
Reviews of
Ganga Aarti at Haridwar
•
1
One spectacular sight that you should absolutely not miss while on a visit to Haridwar is Ganga Ji ki Aarti, performed every evening after sunset on the ghats of Ganga in Haridwar (usually begins at 6:30 pm).
Attractions near
Ganga Aarti at Haridwar