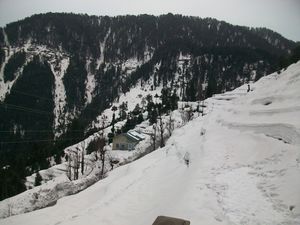 Things to do
Hiking, Sight seeing
Bahra Pathat Forest
Bahra Pathat Forest is 4 km from Dalhousie, well known for Bhavani Mata temple and hiking.
Places to stay near
Bahra Pathat Forest
goStops Dalhousie (Stops Hostel Dalhousie)
Reviews of
Bahra Pathat Forest
•
1
We decided to walk about this small town. We began at Gandi chowk and taking the upper bakrota round we reached Bahra Pathat forest. It was a long walk through snow path & forest so tourists usually hire a taxi to take them there but what is the fun in that. The feeling of being lost is common to explorers but we reached out destination exhausted only to be re-energized by the view. We planned to walk back the same route to return to our hotel, but the darkness of the night and the inception of the dhaba guy about wild animals lurking in the forest convinced us otherwise.
Attractions near
Bahra Pathat Forest