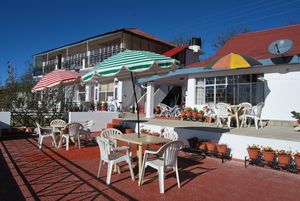 Open hours
Check out time is 12 noon here.
Things to do
Indulge in relaxing massages, going on long strolls and doing bird watching.
Budget
Room tariffs begin as low as INR 2970.00 and can go up to INR 4800.00. However, this depends on your choice of room.
Krish Rauni Resort
More famously known as the Apple Orchard Inn, this resort is nestled in n apple orchard overlooking a valley. Snow capped ranges surround the resort here and one can indulge in the amenities offered like free room service, rooms with balconies and fitted with wardrobes and desks, running hot water round the clock, and clean drinking water. The resort has its own restaurant and one can order food to be cooked to ones liking here. Indoor and outdoor activities can also be enjoyed here. You will be happy to have spent your vacation at this place.
Places to stay near
Krish Rauni Resort
Reviews of
Krish Rauni Resort
•
1
Krish-Rauni is for the discerning traveller who's been through the usual hill-station grind and is looking for a slightly more mature experience. For those who think that home stays are about limited menus, less-than-sophisticated surroundings and compromises everywhere - Krish Rauni would be a wake up call. But it would be a misnomer to compare Krish Rauni to usual hotel properties because it is not that. It is a home away from home with attention paid to every slight detail which makes travel enjoyable. It is also about peace, re-generation, relaxation and being in tune with the rhythm of HP(the state). It is close to sight-seeing options which are off the beaten, cliched touristy track. Krish Rauni is a great holiday and we are looking forward to getting back soon.
Attractions near
Krish Rauni Resort