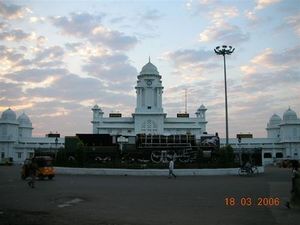 Things to do
communication
Kachiguda Railway Station
One of the three central railway stations of Hyderabad, it is administered and managed by the South Central Railway zone of the Indian Railways. The station was constructed in the year 1916 when the authority was known as the Nizam's Guaranteed State Railway. The station has a Gothic Style of architecture and is a multi functiional station with food joints, shops, restaurants and so much more.
Places to stay near
Kachiguda Railway Station
OYO Premium Hyderabad Secretariat
OYO Rooms Hyderabad Secretariat
OYO 2635 Hotel Balaji Residency
Reviews of
Kachiguda Railway Station
•
2
I left Kachiguda Railway Station (Hyderabad) at 07.45 AM by Tungabhadra Express which starts from Secunderabad Railway Station at 07.30 AM in the morning and you reach Kurnool at 12.45 PM. I went straight to my friend's house for lunch and our trip to the mountain was at 02.00 PM. In case, you don't know anybody in Kurnool, you can have your lunch at Hotel Raj Vihar which has a decent restaurant. You can order for a South Indian Thali, which will not only satiate your hunger, but also satisfy your taste buds. The puris served with the thali are yummy. And you can end up with a sweet. A banana and Sweet Pan completes the meal, but that's not part of the thali. You have pan kiosks outside the Hotel.
Please board auto rickshaws that follow the metre system.
Attractions near
Kachiguda Railway Station