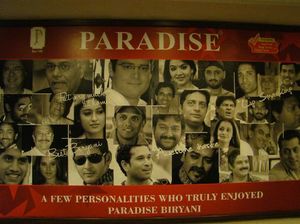 Best time to visit
2:00 AM - 9:00 PM
Open hours
11:30 AM - 11:00 PM
Paradise Restaurant
A part of the South India Shopping Mall, this is a restaurant which is famous for its Hyderabadi Biryani and kebabs. Paradise has now become like a brand name and people refre it to Paradise biryani rather than biryani from Paradise Restaurant. The quality and quantity are both more than awesome and the taste of the juicy kebabs are simply to die for. It is a little down from the mark during the peak hours but then this happens when you have to manage such a huge place. Dine in and take away are both available.
Places to stay near
Paradise Restaurant
OYO Premium Hyderabad Secretariat
Spacious & Sunlit Flat, City Centre
Reviews of
Paradise Restaurant
•
3
Eh well, it's said Paradise has the best biryani. This trip was incomplete without a biryani meal from Paradise. The staff is helpful, always trying to help you make the right choice and combination of food. I ordered a Mutton Dum Biryani. Well cooked mutton that melts in your mouth. By the way, the portion size is huge for any Biryanis in Hyderabad. One bowl of Biryani is good enough for two people. Not to forget the famous desserts, Qubani ka meetha, and Double ka meetha. Qubani ka meetha is a dessert made out of dried apricots and Double ka meetha is nothing but a bread pudding with a Hyderabadi twist.
The foodies will crave for this place. Not just the famous biryani but everything here is amazing. Be prepared for the food-gasms when you visit this place.
Attractions near
Paradise Restaurant