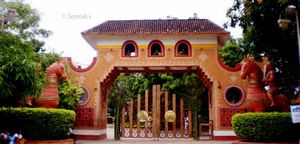 Best time to visit
2:00 AM - 9:00 PM
Open hours
11:30 AM - 11:00 PM
Traveller Types
Families, Friends
Rank
10 out of 217 attractions in Hyderabad
Shilparamam Cultural Society
A part of the South India Shopping Mall, this is a restaurant which is famous for its Hyderabadi Biryani and kebabs. Paradise has now become like a brand name and people refre it to Paradise biryani rather than biryani from Paradise Restaurant. The quality and quantity are both more than awesome and the taste of the juicy kebabs are simply to die for. It is a little down from the mark during the peak hours but then this happens when you have to manage such a huge place. Dine in and take away are both available.
Places to stay near
Shilparamam Cultural Society
Super Convenient & Comfortable #1
1 BHK Fully Furnished Studio Flat
Spacious apartment in Hitech city,
Red Fox Hotel, Hitech city, Hyderabad
Lemon Tree Premier Hitec City Hyderabad
Reviews of
Shilparamam Cultural Society
•
2
Shilparamam is an arts and crafts village located in Madhapur. Cumulation of arts and crafts, from all the ends of the nation, plus the yummy street food stalls. What else will you need? The rural museum is beautiful. You can also experience a bullock cart ride here. Interesting much? Then try the night bazaar too. Due to the presence of tech parks and long working hours around, the night bazaar is a fun thing to do in Hyderabad.
Arts and craft bazaar. so much to shop
Attractions near
Shilparamam Cultural Society