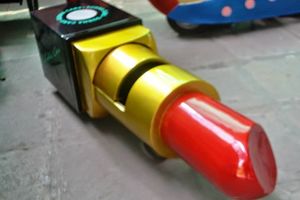 Best time to visit
11:00 AM - 4:00 PM
Open hours
9:00 AM - 6:30 PM
Things to do
museum tours, phottography
Budget
Rs 30 for adults and Rs 15 for children
Best Months
September - February
Rank
24 out of 217 attractions in Hyderabad
Sudha Cars Museum
Located near the Nehru Zoological Park, it is unique in the whole world. Built by a local man and made successful with his talent and passion, this is the only hand- made car museum you will ever come across. The theme of this museum is vintage and creative cars and you will thus find cars in all shapes, szes and designs starting from that of a cricket bat to something even more wacky. The incredible talent of Mr. Sudha should be applauded hugely and the museum be made even more popular. This is presently one of the most visited places in the city.
Places to stay near
Sudha Cars Museum
OYO 674 Apartment Hotel Manar Luxury Suites
Manar Luxury Serviced Apartment
Reviews of
Sudha Cars Museum
•
3
Truly the wackiest car museum as described by Guinness World Records. Cars in the shape of pen, pencil, desktop, book, Camera, football, bed and even condom. The museum is the home to the world's largest tricycle. The museum also houses a few vintage cars.
This museum is owned by Mr.K.Sudhakar. He is a Guinness World Record Holder for making the largest tricycle in the world. The Car Museum is a result of his hobby and the museum exhibits many handmade Wacky cars.
Ride from Banjara Hills to Bahadurpura to visit Sudha Car Museum. The Sudha Car Museum is a private museum of its brainchild, K Sudhakar, the designer of the cars displayed at the museum. Apart from a few vintage exhibits, the highlights of this place are the creative car models designed by K Sudhakar. These exhibits are not only for display but are also motor-able.The burger, shivling, bag, lipstick and bed shaped vehicles are remarkable! This is a unique place and has no comparison with any museum in India.
Attractions near
Sudha Cars Museum