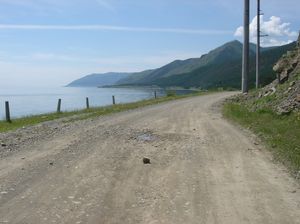 Places to stay near
Lake Baikal
Домашняя студия в центре Иркутска.
Alice's house in the center
Reviews of
Lake Baikal
•
1
Kay and I enjoyed Irkutsk and its pleasant atmosphere of a university city. But after a couple of days, we were off to Bolshoe Goludnoe, a Siberian village on the shores of Lake Baikal, not far from Irkutsk. Lake Baikal is the oldest and the deepest lake in the world which contains 1/5 of all the fresh water in the entire world. Even though the weather had been hot during our Siberian adventure, the depth of that lake and the amount of water ensured that the water was constantly freezing cold. My first impression of our new Homestay was that village homes seemed more spacious than city apartments. These were actual houses rather than apartments. There was plenty of empty space outside, though, and we took advantage of being in the countryside to do some long walks – through the village, through the nearby forests, and along the shore of Lake Baikal. It felt so liberating to be out in the countryside for a while with its fresh air and wide open spaces.
Attractions near
Lake Baikal