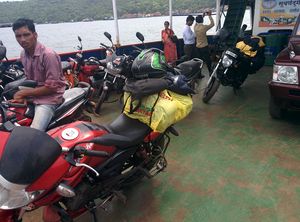 Best time to visit
Across the year
Things to do
Ferry services
Jaigad Jetty
Jaigad Jetty is ferry services from Jaigad to Tarsaal, It reduces the road travel to 30-40 kms.
Reviews of
Jaigad Jetty
•
2
The day two was of coastal route and more exciting. While passing through the village roads, it was fascinating. What a feeling to have a fresh kairi by the en-route.To reach Ganpatipule, Jetty services were available to ferry people and vehicles from Tavsaal in Guhagar taluka to Jaigad port. It took around an hour to cross the 10 minute ferry travel as there was only one ferry for to & fro. Though we enjoyed that time too, the view at Tawsaal Jetty in the morning was lovely. Misty airy marine blue sea mesmerized us.
After rushing through the most scenic route in our Itinerary we arrived at jaigad port where we have to board a ferry to take us accross the river. There is no bridge nothin ferry is the only option. Earlier I was sckeptical about ferry but seeing the locals boarding ferry with their cars and bikes make me confident and we loaded our bikes on the boat which took us further. 40 mins of ride on the boat and we were back on the state highway. From this point we decided to go back to National Highway and leave the beautiful scenic state highway since it's time consuming.
Attractions near
Jaigad Jetty