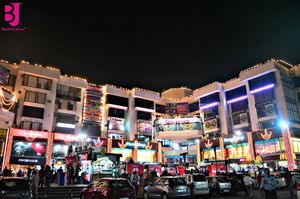 Best time to visit
Mall Hours
Open hours
11:00 AM- 9:00 PM
Things to do
Shop, shop & shop
Traveller Types
Friends, Couples, Families
Rank
43 out of 139 attractions in Jaipur
Gaurav Tower
Among the very renowned malls on Jaipur, one that cannot be missed out is Gaurav Towers. This is quite a popular hangout among the locals and a sure shot visit if you have plans of some expensive shopping. You can also expect a showcase of lot of tradition here in the traditional clothes available all throughout the shops. The décor, the lights and the charisma of the place is worth every moment you plan to spend here. Overall, an experience that is memorable and fun.
Places to stay near
Gaurav Tower
FabHotel Raj Kothi Malviya Nagar
Reviews of
Gaurav Tower
•
3
12. Gaurav Tower (GT) -Type - Shopping MallFamous For - Branded Shopping Stores, Branded Restaurants, Movie TheaterLocation - Gaurav Tower Marg, Malviya Nagar, Jaipur, 302017Timings - 10 A.M. to 11P.M. (All Days Open)Nearest Metro - Vivek Vihar Metro Station (6.5 KM / 17 Min)Contact Number - 0141-5110022Web - www.bardiyagroup.com/gaurav-tower
After visiting these place, we hit the famous malls of Jaipur. We went to the most popular hangout place of Jaipur, Gaurav Tower. Sparkling lights, Crackers, decorated shops, energetic nourishment joints and obviously, the populace of Jaipur dressed up in delightful, traditional Indian clothing types are all over in Gaurav Tower.
Attractions near
Gaurav Tower