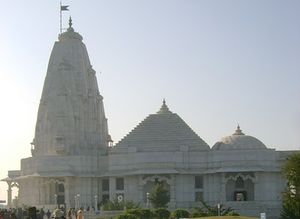 Open hours
6:00 AM - 12:00 PM and 3:00 PM - 9:00 PM
Rank
170 out of 190 attractions in Jaipur
Satyanarayan Mandir
Also known as the Birla Temple, it is a few steps down the Moti Dungri Hill in Rajasthan. This beautiful, all- marble temple was established by B.M. Birla and it started to be called the Laxmi Narayan Temple. The temple is unlike the ancient temples and has a lot of modern touches to it. As you go inside this white beauty, you will find the idols of Goddess Lakshmi and Lord Narayan inside along with many other gods and godesses of the Hindu Religion. The walls of the temples are engraved with scripts and cerses from the Bhagavad Gita and Upanishads. There are also mythological events inscribed on the walls of this beautiful temple. A remarkable feature of this temple is that there are pictures, idols and figures of achievers, saints and great men of other religions also such as Socrates, Buddha , Zarathustra, Confucious and others.
Places to stay near
Satyanarayan Mandir
Terrace Room@Kalpana Yoga Homestay
Reviews of
Satyanarayan Mandir
•
1
We started the Jaipur City tour, by first visiting, the famous Laxmi Narayan temple, or Birla temple. It was built in 1988, by the Birla Group of Industries, one of the business tycoons of India. Situated just below the Moti Doongri hill, in the southern part of Jaipur, one can get a beautiful view of the Moti Dongri fort, which was built like a Scottish castle, from this place. Constructed of pure white marble and surrounded by lush green gardens, this temple is dedicated to Lord Narayan (Vishnu), the preserver and his consort, Lakshmi devi, the Goddess of Wealth. The temple has attractive stained glass windows depicting scenes from the Hindu mythology and rich carvings in pure white marble. It also portrays great historical achievers, philosophers and religious saints such as Socrates, Zarathustra, Christ, Buddha, and Confucius. The three huge domes of the temple represent the different approaches to religion. One can reach this lovely temple, easily from the city, by taking the local bus, rickshaw or taxi. When walking barefoot * inside the temple, the coolness of the marble surface felt, under my feet, evoked a feeling of deep peace, satisfaction and gratitude towards life ! *one has to walk in, barefoot, whilst entering any of the temples in India, as a sign of respect to the deities in the temple. This also contributes significantly towards maintaining the cleanliness of the temple too!
Attractions near
Satyanarayan Mandir