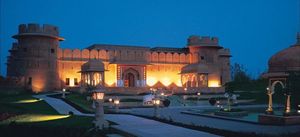 Open hours
Check in/Check out- noon to noon
Budget
Starts at INR 32000 per night for one room
The Oberoi Rajvilas
Located on the NH 11, The Oberoi Rajvilas is a hotel that stinks of luxury, comfort and elegance. The entire place is stretched on 32 acres of land and is a lifetime experience if you have the budget. It is surely the place to stay if you are on an exotic vacation. Each room has the view of lush green courtyard and also has a private garden to relax in peace. The room again is the place that speaks of luxurious furnishings as well as comfortable ambiance. The unique combination of modern amenities with the vintage look and architecture is something that will take you off your feet!
Places to stay near
The Oberoi Rajvilas
Home in a Paradise - Heart of City
Reviews of
The Oberoi Rajvilas
•
1
Just off the NH-11 , The Oberoi Rajvilas on Goner Road is situated in 32 acres of lush countryside . The room boast grand four-poster beds and sunken marble baths overlooking private gardens, while the embroidered tents outside have old-style baths and outdoor decks. It's a great place to relax and recharge. The beauty if the Rajvilas is that it offers every luxury and amenity of a modern city yet retain a vintage charm.
Attractions near
The Oberoi Rajvilas