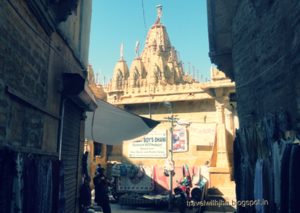 Best time to visit
7:00 AM - 7:00 PM
Open hours
6:00 AM - 10:00 AM and 5:00 AM - 8:00 PM
Best Months
September - February
Traveller Types
Families, Couples, Friends
Rank
5 out of 68 attractions in Jaisalmer
Jain Temples
Also known as the Parswanath Temple and dedicated to the 23rd Tirthankara of the Jains, this is a beautiful temple in the Badridas Lane of Kolkata. The temple complex is divided into 4 parts- Shitalnath Ji Temple, Chandraprabhu Ji Temple, Mahavir Swamy Temple and Dadawadi. The temple is built in the contemporary style and is like most other Jain Temples in white. The complex has gardens and fountains also that increase the peacefulness of the area. The temple complex is not only a popular one with Jains but with all tourists.
Places to stay near
Jain Temples
The Surya Paying Guest House
Golden Marigold Hotel - welcome!
Attractions near
Jain Temples