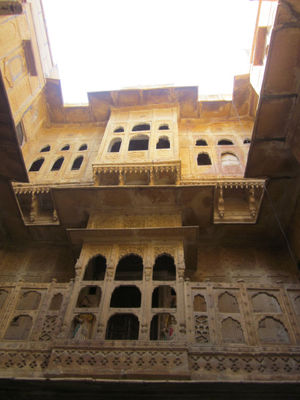 Best time to visit
11:00 AM – 4:00 PM
Open hours
8:00 AM – 7:00 PM
Things to do
History tours, photography
Best Months
December - February
Traveller Types
Families, Couples
Rank
26 out of 68 attractions in Jaisalmer
Nathmal Ji Ki Haveli
This mansion in the heart of Jaisalmer is rated as the best in the city in terms of splendor. This mansion was the residence of Diwan Nathmal ji Mohta, who was the Prime Minister of the Maharaja of Jaisalmer at that time. The construction credit goes to a Muslim brother duo, Hathu and Lulu. The light color sandstone and the beautiful life size statues made in the mansion are remarkable. The pair of huge elephants on both the sides of the entrance seems like they are guarding the mansion as well as welcoming the guests inside. Inside the mansion the walls are filled with beautiful paintings and carvings of various incidents from daily lives, floral motifs and also modern equipments such as cars and fans. It is said that the builders had not seen these things ever but they made them with mere imagination of what they had heard from other people.
Places to stay near
Nathmal Ji Ki Haveli
The Surya Paying Guest House
Golden Marigold Hotel - welcome!
Reviews of
Nathmal Ji Ki Haveli
•
3
8. Visit the Nathmal Ji Ki Haveli
The first floor of the palace is lined with incredibly appealing paintings which are painted using 1.5 kilograms of gold.
This Haveli is marvel in stone architecture. Maharawal Bairisal got this ornamental two storied haveli constructed in the year 1885 A. D. and gifted it to Nathimal, his Diwan. Stone elephants on both sides of the platform of the haveli signify the grandeur and position of diwan. The 7th generation of Nathimal lives in this haveli. Hence we were not allowed to go inside. But we can see the haveli from outside.
Attractions near
Nathmal Ji Ki Haveli