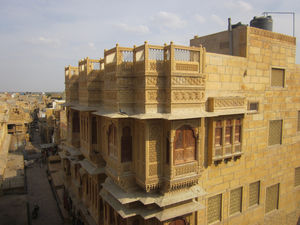 Best time to visit
10:00 AM – 4:00 PM
Open hours
8:00 AM – 6:00 PM
Things to do
History tours, photography
Budget
RS 10/- for Indians, RS 15/- foreign tourists, RS 50/- per still camera, 100 per camcorder
Best Months
September - February
Traveller Types
Couples, Families
Rank
24 out of 68 attractions in Jaisalmer
Salim Singh-ki Haveli
Another beautiful gem of Jaisalmer, this mansion was built by Salim Singh in the year 1815 when Jaisalmer was the capital of the Rajput Kingdom. Salim Singh was the Prime Minister of the court at that time and this was his residence. The specialty of this mansion that makes it stand out from others is the fact that the bricks and stones of this are not joined with cement and mortar. They are joined with long and strong iron rods. The mansion is so huge that it is said the king was also jealous of it. It is also one of the most innovative buildings of that era. The theme from which the design of the mansion was inspired is a dancing peacock. The 38 balconies projecting out resembles a peacock dancing. The intricate designs of the walls and pillars are also remarkable.
Places to stay near
Salim Singh-ki Haveli
The Surya Paying Guest House
Golden Marigold Hotel - welcome!
Reviews of
Salim Singh-ki Haveli
•
2
Salim Singh-ki-Haveli is famous for its intricate etched architecture and engraves on its arched ceilings.
Salim Singh ki haveli has been built on the remains of an older haveli built in the late 17th century. The new building was built in the year 1815 and was occupied by the Mehta family of Jaisalmer. They were the most influential family of their time. This haveli was commissioned by Salim Singh, the then Prime Minister of the kingdom when Jaisalmer was the capital. The haveli has a distinct architecture. The roof has been constructed in the form of Peacock. The haveli is situated beside the hills near the Jaisalmer Fort
Attractions near
Salim Singh-ki Haveli