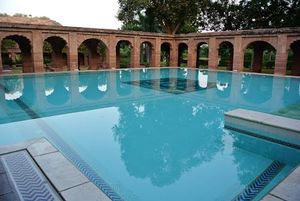 Best time to visit
Late evening or dinner time
Open hours
Restaurant is open from 11:00 AM – 10:00 PM
Things to do
swim, eat, and relax
Budget
depends on the bill
Best Months
September - May
Traveller Types
Families, Couples, Friends
Rank
12 out of 88 attractions in Jodhpur
Balsamand Lake and Garden
This is a lake house which is quite a renowned one in the city of Jodhpur. According to tourists and locals, this is a must visit for all those who are coming to the enriched cultural hub for the first time. The swimming pool is the most eye-catching structure here with some spectacular carvings not only on the roof but also on the pillars. There is an open air restaurant to enhance the taste buds with some Indian and especially Rajasthani delicacies. If you are in the city with your mate, then there is nothing better to take them for a date here at Balsamand Lake.
Places to stay near
Balsamand Lake and Garden
CrashPad - 4 Bunker Room & B'fast
CrashPad Hostotel Jodhpur
Bhavyam Heritage Guest House
Reviews of
Balsamand Lake and Garden
•
1
A majestic lake house shadowing lake Balsamand is a must visit place. The major attraction here is the beautifully built swimming pool which has amazing carvings on the pillars and roof. The open air restaurant in Balsamand has scrumptious food to offer. Perfect setting for a date night!
Attractions near
Balsamand Lake and Garden